Does getting to know your team members really make a difference?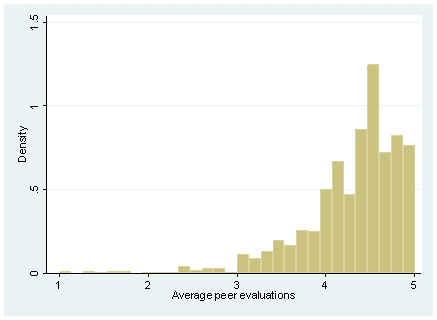 We are seeing some unusually good numbers in 2018-1a.
The 2018-1a track of X-Culture is underway with about 1,100 students from 20 countries in it (4,000 students to join in 2018-1b in a few weeks).
Normally, peer evaluations are around 4.0 (out of 5.0) and motivation, self-confidence, enjoying the team, and clarity is around 80 (out of 100).
This time, unexpectedly,  peer evaluations are consistently around 4.3 and motivation + is at around 90. This is a HUGE difference. Over 45,000 people have gone through X-Culture. We've done it around 30 times, and the numbers are always close to 4.0 (=/- 0.1) and 80 (+/- 2). So 4.3/90 that's like two standard deviations above the norm.
When I saw the results first, I thought it's just a statistical anomaly or a "honeymoon" phase. But it's been several weeks and the numbers stay high.
Moreover, only 8 out of 1,077 team members got "warnings" (most of the team members said they are not actively participating). Normally, it's around 30 in a given week (or about 3%, not 0.7% we see now).
REASON?
One thing we did differently this time is gave the teams an extra week to get to know each other. Normally, we give them 4 days to meet-and-greet, and then we get right to the business: select your client company, analyze the competition, select the best new market, and so on each week. This time, they got an entire two weeks to meet each other, gave them two "How well do you know your team members" quizzes, and asked to write a team charter. And only then started bombarding them with the task-related deliverables.
Prior research showed that giving teams time to get to know each other is very important. All kinds of experiments showed that even a few minutes on meeting the opponent or partner as a person improves the results (e.g., better results on the Ultimatum game).
So we decided to test it in X-Culture and it seems to be working!
Look at this week's peer evaluations. Beauty! Almost all students are above "OK", and a huge portion is between "Good" and "Excellent" (as judged by their team members, not counting self-evaluations). Dream team 🙂
Curious to see how long it will last…
Even more important, will these "happy" teams write better business plans?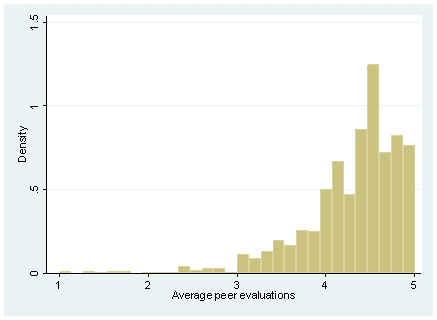 ---
By Vas Taras
 icon-folder-open  More X-Culture blog posts
  icon-pencil-square-o Become an X-Culture Blogger and submit your X-Culture related observations, stories, suggestions